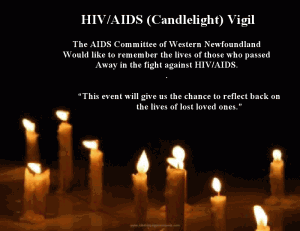 The AIDS Candlelight Vigil is a community event held annually to remember, honor and celebrate the people who have died of AIDS or an AIDS related illness, those affected by HIV/AIDS and people who are living with HIV/AIDS.
Every year thousands of candles are lit to remember the lives of those who have passed away in the fight against HIV/AIDS and encourage and support those who are living with the disease.
"This event gives us the chance to reflect back on the lives of lost loved ones."
December 1, 2014, 6:30 PM at Majestic Square, Corner Brook.