Shawn Cooper grew up in Fortune, Newfoundland, and attended nursing school at The Grace General Hospital in St. John's, graduating in 1996. Shortly after, he moved to Gander where he practiced for 16 years in ICU/Emergency Department. While working as a site coordinator, Shawn was encouraged to continue his education. Since he missed having direct contact with patients, he started thinking about the option of becoming a Nurse Practitioner (NP). Shawn decided to enroll in the post RN Nurse Practitioner program at MUN through distance in 2009.
After his program was complete, Shawn was looking for change and he and his wife moved from Gander to the Norris Point/Gros Morne Area after accepting a Nurse Practitioner position at the Bonne Bay Health Centre. Shawn has been working in Bonne Bay since June 2013, and travels to many rural communities to treat patients.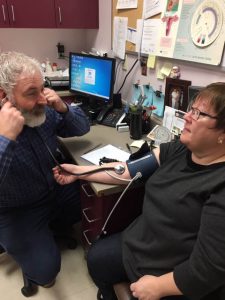 "Nursing is one of the most fulfilling and challenging, diverse careers you could imagine," Shawn says.  He provides service across the full continuum of care; seeing inpatients in acute care, residents in long term care, and community clients in their homes. Shawn appreciates that he gets to use his full scope of practice and improve his clinical skills as a member of the health care team in a rural community.
"When you move to a rural area, it is more than just a job. People in rural areas often look to you as a community leader and an advocate. In this position, people put a lot of trust in you and you have a responsibility to return their respect and trust. It truly is a privilege to develop relationships with people in the community and provide services."
Shawn feels that people who pursue Nurse Practitioner roles love being a nurse and believe they have more to offer their patients. Shawn suggests to RNs considering becoming Nurse Practitioners, to be comfortable in their role as an RN, to take time to develop their skills and enjoy being a RN before deciding to pursue their masters.
We thank Shawn Cooper for everything he does to enrich lives of clients, patients and residents of Bonne Bay/Port Saunders, and for his dedication to the Nurse Practitioner profession.
Written by: Heather Simmons, Human Resource Consultant