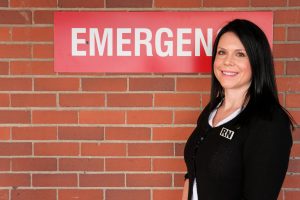 Rina Decker was out for a run with her husband on a Saturday afternoon as part of her half marathon training schedule, when she was flagged down by people yelling for help at the scene of an accident. A snowmobile had gone over an embankment into the frigid water 25 feet below and a young man, barefoot and disoriented, had somehow made his way up to the road in Steady Brook, but was in obvious distress.
As luck should have it, Rina is an emergency room nurse.
Without hesitation, Rina stopped on a dime, in the middle of a long distance run, and seamlessly transitioned into ER Nurse mode. She took control of the situation and put everyone at the scene at ease with her expert care and her compassion for the patient. Rina's medical training and professionalism were evident that day, and her kindness has left a lasting impression.
I recently attended a meeting where we talked about the moments in life that have an impact on us (Lollipop moments). We talked about moments we experience that we may not have given much thought to but have a great impact on others. After attending this meeting and feeling inspired I began to reflect on some moments which make feel me proud of not only what I do but I see the pride my coworkers take in their work. Sometimes it's easy to focus on the less positive but we have to make an effort to find the beauty and notice all these wonderful people in our lives.
I have been a Recreation Therapy Worker at Bonne Bay Health Centre for 7 years. Each day I see my coworkers going above and beyond, creating moments that are positively impacting others. They act like they are doing nothing out of the ordinary and for many it isn't out of the ordinary, it's just who they are.
Living in a long term care home may be challenging for some of our residents. For Robert, one of the biggest challenges is loneliness. Unfortunately, Robert has limited family nearby to visit him. His only niece lives out of province and visits were limited to summer vacations. Robert and I discussed the idea of creating an email account so it was easier to send and also receive updated pictures and news from his family.
Continue reading Resident Pen Pals