There is a lot Bonnie Chaulk cannot put into words.
How does a Registered Nurse from Newfoundland Labrador explain the three weeks she helped strangers cope with a COVID-19 outbreak in Ontario? How does she write about the camaraderie that developed between strangers? The suffering of patients, and the look in their eyes when a front line heath care worker shared a moment of kindness.
The simple truth is that she cannot.
What Chaulk can do is offer her feelings about an experience that opened her eyes to Canada's pandemic crisis.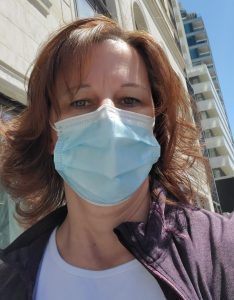 "I heard Ontario was in need of nurses and then I saw an email that was sent out to staff looking for volunteers," Chaulk said. "I immediately put my name in. I've always had an interest in relief work of any sort. I did two missions to Haiti with Team Broken Earth and enjoy any opportunity for a new experience that can help others."
Newfoundland and Labrador health care professionals began travelling to Ontario in April, volunteering to help at hospitals after Premier Doug Ford put out a call for assistance dealing with an escalating caseload of severely ill patients. Chaulk flew out of Deer Lake on April 27. Western Health Registered Nurses Alice Felix Critchley and Rory Tatchell joined a second cohort travelling to Ontario on May 3 and supported the William Osler Health System in the Brampton area during their stay. Critchley returned on May 18. Tatchell returned on May 28.
"The trip was arranged on very short notice, and I had only a few days to prepare," Chaulk said. "I discussed it with my family and they were not a bit surprised by my interest in going. They were fine with me doing so. There were very little details about what our work would involve but I did know it was within the ICU.
"I wasn't aware I would be there for three weeks until I arrived," Chaulk added. "There were a lot of details to be worked out between the provinces to make this happen. Western Health and everyone involved did a wonderful job getting the details in order in a short time. The logistics were well organized and I was very happy to be chosen to go."
The first contingent from Newfoundland and Labrador arrived in Ontario ready to relieve their tired counterparts. "Everyone we met was so thankful and appreciative it really made us feel welcome," Chaulk said. "We stayed at a hotel 10 minutes walking distance from the hospital and hotel staff thanked us every day."
Chaulk was orientated to the medical-surgical ICU. "At first it felt very overwhelming to see the work area," she admitted. "But it would prove to be one of the most rewarding choices I've made. This particular ICU became the Covid-19 ICU and expanded to 38 beds. All patients were on an extracorporeal membrane oxygenation (ECMO) device which meant they were the sickest of the sick in the Ontario area.
"Patients were transferred in from other sites because they were failing all other attempts for survival," Chaulk said. "ECMO, normally a short-based use for heart and/or lung bypass, was now being used to bypass the lungs of COVID patients. That was far beyond anything I had ever seen before and while the nurses on this unit were used to ECMO, the sheer volume of 38 far exceeded their usual volume."
Chaulk quickly adapted to the situation, working side-by-side in full PPE to help patients and ease the workload of her fellow RNs. The days passed quickly as Chaulk utilized her extensive training.
"My experiences were amazing," she said after returning home to Deer Lake. "To see what those nurses face every single day is sad, but inspiring. They are tired and drained but they continue on because they have to. They were so thankful for any help it was truly amazing.
"I highly recommend for anyone to consider going if given the opportunity. It's that one experience in life that you will never forget. I would not hesitate to go again."
Written by Connie Boland, Communications Officer