There is something about nature that brings people together. Conversations around growing things create a bond of caring and sharing. Getting your hands dirty is a bonus.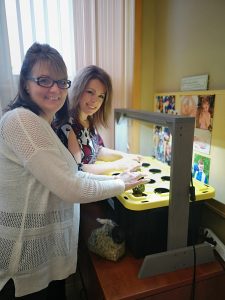 "We grew basil, lettuce, and kale at Western Health's Deer Lake office," said Karen Bennett who provides administrative support in the office. "As a group, we really enjoyed watching the SucSeed garden grow."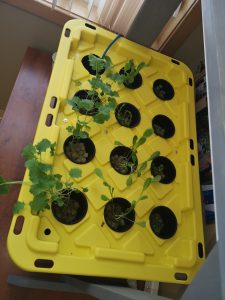 Bennett worked with her colleague, Terri Lynn Oake, to create the garden for Western Health staff and clients. "We also enjoyed the salads we made from the produce," Bennett laughed.
Project SucSeed is a national and international award-winning hydroponic system developed by Memorial University students to address the need for fresh, affordable produce in Newfoundland and Labrador. Working with expert agriculturists and engineers, students developed a hydroponic system – an indoor garden used to grow fresh produce without soil or sunlight.
SucSeed grew into a sustainable social enterprise that gives people the ability to grow fresh produce anywhere, at any time. It became a for-profit social enterprise in 2017 and exists to improve food security and promote environmental sustainability across Canada. Schools, office buildings, agencies, and organizations embraced the program, using a nutrient-rich solution and specialized ultra-violet light to grow fruits and vegetables. Pretty much everything except root vegetables can be grown in a SucSeed garden.
Bennett said there was an immediate, positive impact on healthcare professionals at her office, which includes Public and Community Health Nurses, Speech and Language Pathologists, and Mental Health and Addictions Counsellors.
"The first thing we looked for in the morning was to see how the garden was doing," she said. "With COVID-19 casting a shadow over everything we did it was good to have something else to focus on."
Seven SucSeed programs were distributed throughout Western Health facilities as part of a workplace wellness initiative. Regional Nutritionist Stephanie Buckle was also involved.
"The experiences of staff with SucSeed are supported in research," said Buckle, a regional nutritionist. "Gardening can positively impact ones physical and mental health."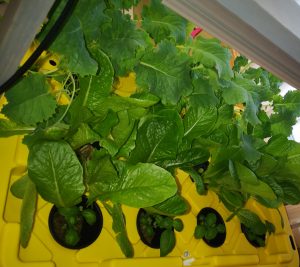 The Wellness Advisory Committee promoted the systems and asked interested departments within Western Health to complete a SucSeed application. Hydroponic systems distributed in fall 2020 are expected to be used for a year before being collected and shared again regionally.
"Setting up a SucSeed garden doesn't require a lot of work and once it's ready you really just need to water it," Bennett said. "It's very little effort for a huge gain."
She said clients also appreciated the garden and commented on its progress. "It's a great conversation piece," Bennett said. "We really enjoyed our garden."
Information on SucSeed can be found at https://sucseed.ca/pages/about
Wondering what to do with all that fresh produce? Cookspiration, developed by Dietitians of Canada, has some recipes that might be on interest. Check out the website or download the App for information on meal planning, what to eat post workout, and nutrition facts.
Written by Connie Boland, Communications Officer