Benjamin Kennedy lives at Bonne Bay Health Centre (BBHC) in the Long Term Care Unit (LTC). The 34-year-old spent his career working offshore as a sailor in the Canadian Arctic. In the fall of 2015, Ben suffered an aneurysm that left him hospitalized, unable to move or communicate, and with very little hope in terms of making a significant recovery.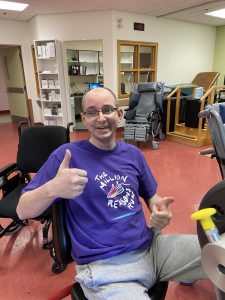 With the unwavering support of his family and the health care team at Bonne Bay Health Centre, Ben's condition gradually improved.  On June 14, 2017, he moved into the LTC unit and over time, Ben became an advocate for other residents and families. "Using a wheelchair is how I get around. It doesn't define me, says Ben." He is now a member of the Regional Resident and Family Council, as well as the Regional LTC Quality Improvement Committee.
In April 2021, Beverly Payne, a Recreational Therapy Worker BBHC, saw an opportunity for Ben to take part in an initiative called "The Million Reason Run," a project that supports 13 children's hospitals throughout Canada. While Ben was unable to run conventionally, Beverly saw a chance for Ben to use the SCIFIT exercise bike as part of his physiotherapy routine to run the distance.
Participants began to collect sponsors, set distance and fundraising goals, and started collecting money. Beverly worked with Ben to set up his sponsor page and together they checked sponsor updates daily, sending out thank you notes to each sponsor for their donation. While Ben was hard at work running the distance goal he set for himself, Beverly was hard at work behind the scenes taking care of day-to-day campaign operations such as adding receipt info and mailing receipts, collecting donations, and setting up interviews with local radio stations.
Carla Bellows, a physiotherapy support worker at BBHC, played another integral role in Ben's fundraising efforts by keeping a daily record of his kilometers traveled.
Ben's initial goal was to bike 100 km and raise $500. On May 31, Ben biked 105 km and raised $3,506!
There was a great sense of pride and excitement for residents that day as everyone anxiously awaited daily sponsor updates; some of Ben's sponsors were families of residents who remembered Ben and the lasting impression he left with them. The residents of Dr. Charles L. LeGrow Health Centre sent Ben a photo of them holding a sign of support, which he later positioned so he could view it while he biked. Ben said the support he received from reading sponsor comments helped him find the courage and strength he needed to keep pushing toward his goal.
Ben recalls his last bike ride with great pride and remembers how staff cheered him on while others lined the corridor and clapped with an ovation after completing his goal. Ben returned that day filled with pride and a strong sense of accomplishment knowing that he made a difference for so many local children's hospitals.
"The challenges Ben has overcome in his young life, along with his commitment to creating a better life for himself, is commendable and a testament to the strength of the human spirit," says Beverly. "Working with Ben was inspiring to all of us, and I am blessed and privileged to know Ben and to call him my friend."
Beverly Payne, Recreation Therapy Worker