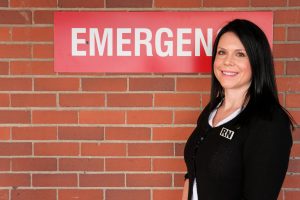 Rina Decker was out for a run with her husband on a Saturday afternoon as part of her half marathon training schedule, when she was flagged down by people yelling for help at the scene of an accident. A snowmobile had gone over an embankment into the frigid water 25 feet below and a young man, barefoot and disoriented, had somehow made his way up to the road in Steady Brook, but was in obvious distress.
As luck should have it, Rina is an emergency room nurse.
Without hesitation, Rina stopped on a dime, in the middle of a long distance run, and seamlessly transitioned into ER Nurse mode. She took control of the situation and put everyone at the scene at ease with her expert care and her compassion for the patient. Rina's medical training and professionalism were evident that day, and her kindness has left a lasting impression.
Rina was presented with a Western Regional Hospital Foundation "Guardian Angel" award a few weeks after the incident. This award recognizes those who have made a significant difference in the life of a patient, often going above and beyond the call of duty. In Rina's case, she came to the heroic rescue of a young man who had been involved in a serious accident. Her arrival also provided great relief to the many by-standers who were first on the scene and doing whatever they could to assist. One of the by-standers, Wanda Mitchell, nominated Rina for this accolade.
Rina was extremely honoured to have received this award and paid the gratitude forward on social media when she noted that it was a team effort.  "Thank you to all those who responded to the accident," said Rina. "Thank you to my colleague, Janet Reddy, for being there; Don Diamond, for providing your truck as a warm environment; Jennifer and Wanda Mitchell for your prompt dispatch of EMS; and Audrey Kilpatrick for your hospitality. Thank you to the EMS, nursing, and medical staff involved; I have no doubt that the patient received the best possible care when he arrived at Western Memorial Regional Hospital."
Tim Lawless reached out to express his appreciation to everyone involved saying, "The boy Rina stopped to help was my son, TJ. I believe that without her quick professional response as an angel of a nurse that this could have been a lot worse. If there is anyone who deserves this award, it's definitely Rina. She will always be an angel to TJ and my family and for that I will always be grateful."
Sixteen year-old TJ was on his way from Humber Valley Resort to Marble Mountain on his snowmobile. Being new to the area and not knowing the trails well, he missed a sharp turn near a bridge in Steady Brook and went over an 8 metre embankment, was thrown from his machine, and landed in the icy waters below, face down. TJ didn't know who or where he was, or what had happened but he walked along the path of the brook, barefoot and disoriented. When he ended up on the road where he could be seen by passersby, he could remember only one thing – his Dad's phone number.
TJ's injuries included a broken nose, two cracked cheekbones, 12 stitches on the back of his ear, thirteen screws, and two titanium plates. He had a concussion, but luckily, no internal damage. Tim Lawless maintains that the quick response by the bystanders and the expert care given by Rina were the key factors in their eventual happy ending. When Tim arrived on the scene, he knew immediately that Rina had the situation fully under control, so he stayed back and watched as she took care of his boy.
TJ has had a  long road to recovery which included twelve days in hospital and three weeks at home before returning to school. His jaw was wired shut for eight weeks after the accident.
Tim says "TJ is doing awesome now". He has a scar on the left side of his chin where they put the screw in and a few other dental injuries that are being looked after, but overall; they still feel it's a miracle.
For Rina, this experience has added to the respect she already had for EMS crews and First Responders that do this every single day and night. She said they often go in blindly but handle any situation that's thrown at them with skill and grace.
She wishes the very best to the patient and his family, and thinks of them often.
Congratulations Rina, and thank you for the work you do for the people at Western Health. You are certainly deserving of this great honour!
If you would like to know more about the Foundation's Guardian Angel Program, please call the Foundation office at 637-5353 and the staff would be happy to share all the details. Patients of Sir Thomas Roddick Hospital may also nominate a staff person or a volunteer for a Guardian Angel award and can call 643-7478 for more information.
Suzanne Carey, Executive Director -Western Regional Hospital Foundation