Making Memories – Not your average committee!!
Throughout the course of an employee's work life with Western Health….you may be assigned to many different work committees, whether by volunteering or being "voluntold" as they say. Recently some Long Term Care staff from a variety of professions were "encouraged" to join this new committee, later to be called "Making Memories." The staff members represented all different disciplines and covered each site Long Term Care site within our region. As the newly assigned staff members started exploring the concept of Making Memories and it was evident that this committee would be like no other. The Making Memories project seeks to improve the lives of residents living in Western Health's Long Term Care homes by granting them a special wish. Each resident, family member, employee or volunteer can request a wish for a resident. The beauty of this project is that it can be customized to the unique needs or desires of each resident. Initial feedback from front line staff, managers, external stakeholders, leadership and others was nothing but positive, energetic and emotional… all the same feelings that our committee was starting to feel. We knew this work would be special.
Since the committee started we have seen much success on so many levels; there has been over 34 wishes approved and granted and we have maintained membership with little efforts in recruitment – it is an easy sell! Whenever we meet to review new wish requests there is always raw emotion that comes across and it is exciting to see how well the process unfolds – everyone wants to make each wish a success. Staff at all Western Health Long Term Care facilities have excelled at bringing the wishes to life and spreading the positive message creating wonderful memories for our residents.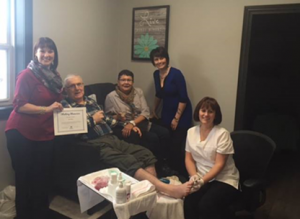 The very first wish contained the entire imaginable characteristic that we envisioned. In December 2016 the first wish was "granted" at Corner Brook Long Term Care Home. The wish was submitted by Millie Bellows, on behalf of her husband, Alfred Bellows, a resident of Corner Brook Long Term Care Home. The wish was for him to have a "salon pedicure." The committee members had a meeting with Helen Young, owner of Vitality Hair, Salon and Laser Studio. The Making Memories project was explained to her as well as the details of Mr. Bellow's wish. Helen was very impressed with the concept of Making Memories and was eager to be a supporter of this wish as well as the overall program. Mr. Bellows and his wife Millie were escorted to the salon where they were greeted by a warm staff welcome. Very soon Alfred was in the comfy salon chair, sipping a glass of bubbly as Michelle Major (Esthetician) was pampering his feet and toes. "She has magic hands, purely relaxing" Alfred soon declared. When asked why he wanted this type of wish, he responded "When I was young my Mom would always wash and clean my feet, it felt good – this reminds me of when I was young and of my Mom." Millie and Alfred held hands throughout most of the session and there was a constant smile on his face. When the pedicure was done he thanked everyone involved. When Alfred was asked "how did it go?" he quickly replied, "I never thought it would feel this good!" Needless to say it was a memorable wish for Mr. Bellows and a very successful first wish granted. This wish was also the first step of ongoing community partnering – each new wish being welcomed by local groups and businesses. Making Memories has not only allowed our committee to grant such beautiful wishes it has allowed its members to live each moment with these residents and families – what a gift!
Written by Patricia Barrett, Recreation Development Specialist at Corner Brook Long Term Care Home