Megan Humphrey, a Deer Lake based Speech-Language Pathologist (SLP), met Landon in September 2018.  Landon is four year old boy who has a diagnosis of Autism Spectrum Disorder.  He is non-verbal, which means that he does not use speech to communicate.
After several unproductive speech therapy sessions, Megan felt that something had to change.  "Imagine what it would like if you were unable to communicate your basic needs and wants or to say I love you to your loved ones whenever you desired. How about telling your best friend about the things that you enjoy the most or what your interests are?  Imagine how frustrating this would quickly become.  For Landon, this was everyday life.  Because he did not have an effective means to communicate with others, Landon's behaviour was the only way he knew how to express himself," said Megan.
Megan introduced Landon to a picture to voice communication application on an iPad called proloquo2go. The success was instant and Landon immediately became more engaged and appeared more settled in therapy appointments. He was able to make requests, comment and actively participate in a treatment session.  Landon quickly became a proficient navigator of the device; exploring the application and using it to communicate in that first introductory session. It was as if Landon and Megan were now speaking the same language and Landon appeared so much more at ease with an effective means to express himself.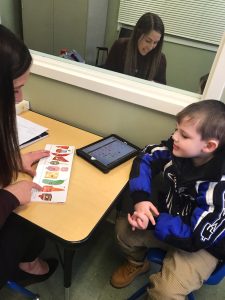 Landon's family could see changes in him after he had learned a new way to communicate. After that first session, Landon's mother recalled him looking for the communication app on his own device.  He couldn't understand why he didn't have this same means to communicate in his own home.  Landon's grandfather attended a session to see the device in action and he was completely amazed after hearing his grandson's "voice." The emotional response from caregivers and family members was overwhelming.   The family was thrilled that Megan was able to secure funding from an outside source which enabled Landon to receive his own speech-specific iPad with the proloquo2go application and necessary accessories within a short period of two weeks. Landon's family was overjoyed with the progress he was making!
In his following sessions, Landon was able to show his true personality.  "Landon is happy, interactive and now enters the treatment room ready to actively participate in therapy sessions. He is able to make choices, requests, answer questions and show his sense of humour.  Avoidant behaviours are now almost non-existent," said Megan.  His mother describes Landon as happy and silly – he will now ask for things then change his mind, laughing, to get a reaction from others.  His Mom was overwhelmed and happy when Landon said "I love you" to her for the first time.
Megan recalls a particularly memorable event when Landon requested to play with Mister Potato Head.  Megan's response was "but I don't have him today."
Landon continued to request Mister Potato Head,  smiling and laughing as he did so to get a reaction from Megan.  "Up until now we haven't been able to readily observe Landon's sense of humour and bigger personality," said Megan.
The device has opened up a whole new world of possibilities for Landon and his family and it has helped to build a trusting relationship between Megan and Landon.  He is able to show the world what he is interested in, can more actively participate in therapy and have quality interactions with his family and friends, now that he has his own unique voice.  Megan has seen first-hand what this device has been able to do for Landon and his family in a short period of time. Megan said, "This is one tremendous example of why I love what I do and chose the profession of SLP.   Being able to bridge the gap for communication and enhance the interactions for my clients and their families is a truly rewarding experience."
As Landon prepares to transition to Kindergarten in September 2019, he will now have his own voice to express himself, participate in circle time, play and b
uild friendships.  Everyone deserves a voice and to be heard, thanks to the amazing technology of the iPad and proloquo2go app – Landon has now found his own unique voice!   Landon's mother beams with pride as she watches her son interact more in the home and clinic settings. She explains, "Landon loves learning with Megan.  He has grown so much because of her in such a short time."
Megan Humphrey, Speech-Language Pathologist