Across Canada, one in five long term care (LTC) residents is on antipsychotics medications without an appropriate diagnosis. Western Health, along with the other Regional Health Authorities in the province are currently engaged in a Nationwide Collaborative to help address this very issue. Since this began, we have been seeing some wonderful results and hearing amazing stories of how individuals' lives have been improved by the work we are doing. Here is one of those stories.
After nearly 50 years of marriage, David Clothier (Dave) had become his wife, Madonna's (Donna) caregiver in their family home for 2 years. After some time, Dave began to realize he would not be able to continue being the primary caregiver for his wife because he had concerns for her safety, and it was extremely demanding.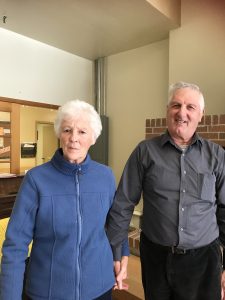 Following a 30 day stay at the Dr. Charles L. LeGrow Health Centre in Port aux Basques, Donna moved into Memory Lane at Bay St. George Long Term Care Centre in February 2018. At the home, Donna was behaving aggressively due to her dementia, which resulted in increased use of antipsychotic medication to try to better manage the behaviors. Evidence suggests that behaviors associated with dementia do not always improve with antipsychotic usage. The care team in partnership with David embraced the opportunity to participate in the Appropriate Use of Antipsychotic (AUA) medication collaborative to improve Donna's quality of life and reduce antipsychotic usage. After a two-week review of Donna's behavior, her dosage of the antipsychotic medication was decreased slightly in October 2018.
Over time, Donna's antipsychotic medication was decreased to a level that was successful for her. Her behavior continued to improve throughout the collaborative. Dave said, "Donna is doing much better now, she is more alert.  She tries to be personable and tries to talk more."  Dave feels very happy with the reduction of his wife's medication.  "After the reduction of the medication, Donna started putting out her hand for me to take, we now walk almost every day and she will come along with me. She is more receptive to other people, she interacts with staff and other residents."
As a result of Madonna's involvement in the AUA, there has been a marked improvement in her cognition and behavior. There has been a significant enhancement to Madonna's quality of life. Staff members feel that Madonna's life has improved since starting on the collaborative. When asked, they will tell you that they feel Madonna is much more alert willing to engage since the process started.
The AUA collaborative is happening throughout seven nursing homes in Western Health. Antipsychotics have been completely discontinued or reduced for 54% of the participants. Paul Ploughman, Manager of Long Term Care says, "It is important to note that all of this was achieved without seeing any increase in aggressive or negative behaviors. We are very appreciative of our staff's willingness to embrace this quality improvement initiative which we have started to spread throughout acute care (hospitals). We expect to continue to see these wonderful results for years to come!"